Contec Group
Contec Group includes ten companies and one R&D laboratory connected by a grounded know-how in the construction and life-cycle building industries.
Since Contec Ingegneria was founded in 1962, Contec Group has evolved and specialized in different businesses to supply a complete and wide service in design, project&construction management, health&safety and industrial processes set up by Contec AQS, Contec Industry, Econ Energy, Pronext, Open Building, ICON, Exenet, Studio Concreto and PMPI with the aim of guaranteeing a complete service in engineering for design, construction and in company production and management processes.
The technical breadth of the Group offers a complete range of skills to satisfy every need, from concept to implementation and assistance during the life cycle of the works and services provided.
---
Become a Contec Group qualified supplier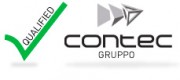 ---