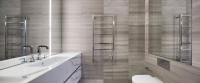 Inauguration of the works for the Television Centre in London
Last week, the works for the great construction's site of the Television Centre in London were inaugurated.
The Television Centre is an iconic building in London, which was the the former BBC's location of production, located in the western zone of the city, precisely in White City. Among the most important players active in this initiative: Stanhope (stanhopeplc.com – developer), Mace (macegroup.com – construction management), Mitsui Fudosan (mitsuifudosan.co.jp – investor), AIMco (aimco.albert.ca – investor).
The entire complex is the subject of a wide redevelopment operation with an investment of £ 400 millions and in a total surface of 130.000 square metres. The Television Centre's new spaces are planned considering a mixed use orientation: apartments, offices, gathering spaces and audiovisual production studios with a view to preserving and enhancing the building's history.
Contec Ingegneria took part in this international project through a meticulous activity concerning the technical-economic advice and the planning development of the innovative bathroom pods (prefab bathrooms units) produced by Stone Bathwear | new revolution bathroom concept. These bathroom pods will compose the final fitting-out of the building.
Click here to see the full news article on Mace's website.