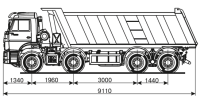 Process innovation for Kamaz by Contec Industry
Contec Industry will be part of an international team for the construction of a new painting line for the plant Kamaz in the Naberezhnye Chelny Republic, in Russia.
Kamaz (kamaz.ru/en/) is an historic Russian plant for the production of lorry, since 1969 with a constant growth in the motor vehicle market.
Thanks to the partnerships with Eurotherm (www.eurotherm.eu) and ThyssenKrupp (www.thyssenkrupp.com), leader of solutions for the transport of heavy components, Contec Industry will develop the mechanical equipment for the insertion of components in the painting line.
The global project for Kamaz is the identification and the design of an equipment that is able to install different product codes without having to remove or add components along the production line in order to optimize the scheduled time and limit the investments in additional equipment.
The characteristics of the solutions designed by Contec Industry are:
quick setup;
modularity and flexibility to fit the design;
standardization and unification of the components;
high precision;
durability and reliability of equipment.
The equipment can be developed in the areas of:
equipment for machinery;
assembly and mounting lines with high productivity.
This project for Kamaz is developed in the area of Special Project, focused on tailor-made solutions for the innovation.
Contec Industry proposes this process for existing and also for new processes to decrease the costs (reduction of working time and waste), leading to the improvement of quality.
For information on Contec Industry services: www.contecindustry.it.
In the picture: a model of the brand Kamaz (KAMAZ 65201-73).