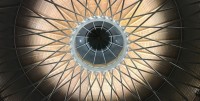 Free training BIM, the initiative of ASSOBIM
Free training for BIM "BIM IN PRATICA" is the latest ASSOBIM initiative – with the participation of Contec Ingegneria and BIS-lab Building Innovation & Skills Lab® – to promote the knowledge of BIM Building Information Modeling.
The initiative promoted by the association ASSOBIM – Contec Ingegneria is one of its founding member – is aimed at professionals, companies, public administrations and materials producers.
The course consists of seven online events between May and July, using the free webinar formula.
Contec Ingegneria takes part in the organization and will participate in the latest analysis (5 July 2018) regarding the topic of BIM in the Public Administration. The in-depth topics: the new obligations for the Public Admistrations, the tendency of the Legislator, the path of the Public Administration until now, analysis of some calls for tenders, the UNI 11337 standard.
CALENDAR
8 MAY 2018
. BIM FOR STRUCTURAL CALCULATION
What changes, problems, software proposals and concrete examples
18 MAY 2018
. THE COMMON DATA ENVIRONMENT SUPPORTING THE BIM PROCESSES
The main requirements of a CDE and its main functionalities, software proposals and concrete examples
28 MAY 2018
. HOW TO MAKE BIM ARCHITECTURAL AND PLANTS DESIGN 
How BIM revolutionizes interdisciplinary planning: from concept to building management
8 JUNE 2018
. THE N DIMENSIONS OF THE BIM
How to work in 4D times, 5D costs, 6D energy efficiency, 7D maintenance
18 JUNE 2018
. CLASSIFICATIONS IN THE BIM WORLD. WHAT ARE, WHEN AND WHY USE THEM
What are the most used classifications in BIM and how they are applied, even through real case studies
28 JUNE 2018
. THE BEP (BIM EXECUTION PLAN): MEANING, FORM AND FUNCTION OF A KEY DOCUMENT OF THE BIM PROCESS
The BEP (information management plan) introduced by the UNI 11337 standard: how does it fit into a BIM process?
5 JULY 2018
. BIM AND PUBLIC TENDERS: HOW DOES THE ROLE OF P.A. CHANGE?
From a general framework on BIM public tenders to the detailed analysis of one or more calls
INFORMATIONS AND INSCRIPTIONS
For further informations and registration: http://www.assobim.it/assobim-lancia-il-progetto-di-formazione-il-bim-in-pratica/.
Tags: public administration