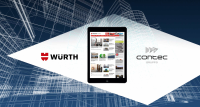 Würth Italia chooses Contec for the spead of technical contents
The collaboration between Würth Italia and Contec Group for the spread of free technical contents through the web platform https://news.wuerth.it/ is very recent.
Würth Italia (https://eshop.wuerth.it/it/IT/EUR) – international leader for professional fixing products and systems – has chosen Contec Group as partner in the Würth News project.
Würth News is an online platform of the company, with a section dedicated to designers and all building operators for sharing news and detailed studies on many topics relevant to the profession: design, energy efficiency, home automation, installation.
The collaboration was born with the aim of disseminating timely and up-to-date information, which Contec Group daily gathers and treats for the activities of its eight companies and the research laboratory. Every day Contec approaches the building in an integrated way, devoting itself also to research and development of methods and practical applications in the field of construction processes, survey and management with a particular focus on BIM, Building Innovation Modelling.
These skills combined with the Würth product experience: construction professionals will find in Würth News specialized and updated technical information.
Tags: contec group, information, technical