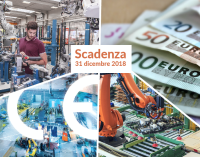 Machinery and plants 4.0: what to do by December 31
The National Industry 4.0 Plan represents an opportunity for companies to increase production technology through adjustments or facilitated purchases of machinery and plants. What to do by 2018 to take advantage of these benefits?
The Industry 4.0 Plan (http://www.sviluppoeconomico.gov.it/index.php/it/industria40) – and in particular the hyper-depreciation of 250% for investments in technology and digital technology – is pushing Italian companies to invest by modifying existing plants and buying new ones.
The Plan represents a convenient opportunity because the benefit can be used automatically by fulfilling certain requirements, without participating in calls for funding or contacting third-party structures.
The company therefore needs to know in advance whether the planned investments can benefit from the expected advantages.
Among the questions and doubts that most frequently are directed at the Contec Industry staff in the field of CE MARKING, REVAMPING AND MACHINERY ADJUSTMENT, HYPER-DEPRECIATION, INDUSTRY 4.0:
1) What characteristics must machinery and plants have to benefit from the national Industry 4.0 Plan?
2) Do the machinery, lines and systems have to be CE marked to access the depreciation?
3) Can I request hyper-depreciation for the upgrading or revamping of machinery and plants already in use?
4) Is the sworn expert report mandatory?
5) What must be done before 31 December 2018 in order not to lose the benefits?
Contec Industry has developed a side-by-side approach to the employer in all phases of the process: from the test of the investment requirements to the implementation of revamping, upgrading, CE marking of the machinery and plants.
Contec Industry can also draw up the sworn expert report, that's mandatory for assets with a purchase cost exceeding EUR 500,000 and strongly recommended also for lower amounts.
TO BENEFIT FROM THE NATIONAL INDUSTRY 4.0 PLAN, THE DEADLINE EXPIRES ON 31 DECEMBER 2018.
Download here the free technical analysis on Industry 4.0 edited by Contec Industry.
For further information: www.contecindustry.it
Tags: ce marking, machinery directive