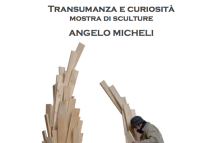 Transhumance and Curiosity, an art meeting
Today, 17 July, at Villa Rodolfi in Villanuova Ozzano Taro (Parma), the art exhibition Transhumance and curiosity will be inaugurated.
Enrico Maria Ferrari, architect of Contec Ingegneria, curated this monographic exhibition of sculptures of Angelo Micheli (aMDL – architetto Michele De Lucchi) in collaboration with Marzio Dall'Acqua and Rodolfo Rodolfi Mansueto.
Micheli expresses himself experimenting the theme of cypress wood as a symbol of eternity and rigor. His search is always moved by curiosity, the fundamental element that breaks the habits and opens up to the desire for knowledge.
The exhibition will be open until 12th August.
TRANSHUMANCE AND CURIOSITY | Exhibition of sculptures by Angelo Micheli
17/07/2015 – 12/08/2015
Daily opening: 11 a.m.- 3 p.m./ 6 p.m.- 12 p.m.
Inauguration: 17 July at 6 p.m.
Villa Rodolfi Villanuova Ozzano Taro, Collecchio (Parma)
Curated by Enrico Maria Ferrari, Marzio Dalley and Rodolfo Rodolfi Mansueto.