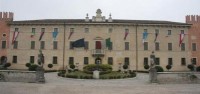 The undersecretary Borletti Buitoni reflects about Villa Balladoro
Yesterday, during her visit to Villa Balladoro in Povegliano – the undersecretary of the ministry of Cultural Heritage, Ilaria Borletti Buitoni pronounced words of profound support for the refurbishment of Villa Balladoro.
The visit is an occasion to raise awareness about the suggestive Villa Balladoro Malfatti of the 17th century, that currently hosts the archaeological museum, the Balladoro's historical archive and the town library.
In collaboration with the administration of Povegliano, Pronext was in charge of the enhancement project of the site, through a feasibility study of the time and the costs of intervention concerning:
-restoration of the public park and the courtyard's entire architectural complex;
-public and private partnership;
-several public destinations for the townspeople and specific fruitions.
The villa gathers a prestigious finds' collection coming from the excavation campaign, which was conducted from 1985 to 1986. The finds go back to the Bronze Age and the high Bronze Age, the Iron Age and the Longobards' Age. However, the archaeological richness of the area does not end here and the new campaigns between 2007 and 2009 discovered a considerable quantity and scientific quality of materials belonging to a Gallo-Roman necropolis. This is probably the most important archaeological corpus of the Northern Italy regarding Bronze and Iron Ages. At present, these materials are in the process of being classified and restored by the Universities of Bologna, Budapest, Milan and Venice.
Therefore the strengthening of the museum's structure has become a pressing need for the entire community of Povegliano – and not only – in order to enhance the archaeological patrimony and the entire territory.
Considering the richness of resurgences and green areas in the territory – which are unused – the purpose of this enhancement is giving them back to the people of the town.
Photo credit: Comune di Povegliano (the municipality of Povegliano)