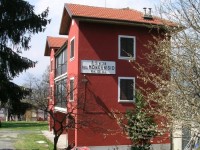 Case cantoniere: new opportunities for the territory enhancement
Appennino Abruzzese and Appulo Sannitico State Road no. 17, Grappa and Rolle mountain pass State Road no.50, Adriatica State Road no.16, Via Salaria State Road no. 4, Carnica State Road no. 52, Abetone and Brennero State Road no. 12. These six road signs and many others– up to 1244 units recorded – characterise the Case Cantoniere, which are the typical constructions coloured in white and Pompeian red.  
The buildings are distributed along the main state roads of Italy, intended for the accommodation of the road workers – called cantonieri – who were employed in the maintenance of roads.
Memories and traces of an economic, social and urban planning system, which has been deeply transformed for years and that currently restores abandoned buildings, but still broadly present on the entire national territory.
Now, in the wake of the recent enhancement actions regarding lighthouses and disused railway stations –  the intention of producing a functional income through the Case Cantoniere, intercepting the increasing tendency of a sustainable economy and tourism. This tendency touches the complementary segments of the budget, hospitality, local wine and food, slow mobility and territorial culture.
The Case Cantoniere are an integral part of the landscape, through that deep relationship with the territory management at source of their creation. This wide presence becomes today a kind of viaticum, which introduces the access to the less known Italy's strips of land.
It seems that the policy of the cultural heritage and territory have found the right approach through the adoption of two important principles.
The first one is an effective acknowledgement of a new cultural heritage profile –  not the traditional monumental or artistic features anymore, but it is under the guise of a daily culture witness – which is also functional but not in stately appearance. The second principle underlines the importance of working the system also by the institutions, especially in a bureaucratic and authoritative context like the Italian public administration's one. In this operation the synergy is activated by the Ministry of Transport, ANAS, the Ministry of Cultural Heritage and Activities and Tourism, the State Property office.
ANAS will take part through a direct investment wishing for an activation of a double channel: the first one involves the operators in the technical property renovation, the second one concerns the real management phase of the property, through the accommodation facilities and the catering, info points, business points, stations for sports equipment's renting.
www.casecantoniere.it (official site – photo credit)
http://goo.gl/Cu2OgG (MIBAC – Italian Ministry of cultural heritage and activities and tourism)