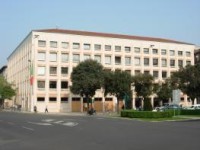 The dual role of the Contec Group in the requalification of the Chamber of Commerce's offices
From its historical location in the spaces of the Domus Mercatorum in the square of Piazza Erbe, this institution moved its offices to Corso Porta Nuova in the 70's, where it began a lengthy process of restoration.

The operation started in 2009 and will see its conclusion between the end of 2016 and January 2017. Pronext and Contec Ingegneria have accompanied the Chamber of Commerce by providing multidisciplinary consultancy during the verification of the different planning phases, the planning of the offices layout and the spaces open to the public during the delicate phases of the construction site and in support of the sole project manager – regarding technical, administrative, economic, financial and legal subjects.
The intervention, planned by Tecnoservice Camere (the in-house company of the Chamber's institution) on the basis of the architectural plan signed by Arteco, which foresees a spending commitment of more than 15 million euro and it will bring into the energetic and plant requalification of the building, as well as a meaningful interior restyling, as the meeting room's re-opening (which will become an auditorium of 300 seats) and the creation of a new hall in the former Sala Borsa, the real symbol of the new Chamber of Commerce.
It is important to consider the particular difficulty concerning the fact that the authority has chosen to do not interrupt any activity during the works – by combining a considerable construction site with the offices functions and targeted at the public – with the consequences in terms of security management and the comfort maintenance for the users and the employees.
The solution adopted by the team of consultants and Contec was the division in different phases of the work with progressive removals of the work spaces and those ones open to the public according to the yard's progress.
An intervention which under that aspect it is certainly intended to teach.
Here, the article about the intervention.
Photo credit: Chamber of Commerce of Verona