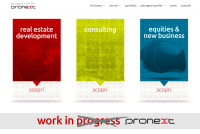 Pronext website is now online
Pronext new website (www.pronext.it) is now online. Pronext is the company of Contec Group, active in the sector of Real Estate and Business Development.
Choosing a clean and smooth layout, Pronext introduces itself through the insights into The Company, Services (Business Development, Consulting, Equities & New Business) and its Portfolio, which describe the planning and the developed services, in order to offer the option of requesting supplementary information.
Constantly updated, the website offers furthermore the area concerning Job opportunities for professional profiles, speculative applications and registration in the supplier database of Contec.
The website will be soon available in the English version. Through a deep sense of belonging and the mutual collaboration inside Contec Group, pronext.it arouses the attention to the news of Contec Group. Lastly,the social network links like Linkedin and Facebook are also present.