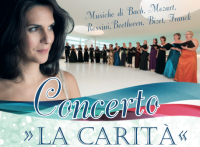 Music in Verona with Pronext
Saturday 11 July Pronext | Contec Group invites you at the church of San Giorgio in Braida in Verona for a concert of classical music with a suggestive program that includes pieces from the Bach, Mozart, Rossini and other incursions more contemporary.

Interpreters, Claudia Oh & World Music Chorus accompanied by the violin of  Günther Sanin and the piano of Maestro Pietro Salvaggio.
This cultural event is open to all citizens of Verona and to music lovers.
Free entry, 7.30 p.m.
The program:
Nearer My God to Thee (Corale Arr. Dirk Martin);
Meditation De Thais (J. Massenet);
Laudate Dominum (W. A. Mozart);
Ave Verum (W.A Mozart);
Ave Maria (Bach / Gounod);
Schindler's List (J. Williams);
Repentir (C. Gounod);
Il Postino (L. Bacalov);
Nella Fantasia (E. Morricone);
Memory (A. Lloyd Webber);
The Rose (A. Macbron);
La Carità (G. Rossini)