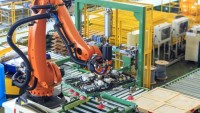 CE marking of robotized islands
In industrial production processes, even the robotic islands are subject to the Machinery Directive. The risk of interference is in fact a determining factor for reaching the CE marking. What is the best approach to make a correct risk assessment?
The robotic islands are "automatic processing cells in which one or more programmable robots are provided" and often, due to production requirements, are associated with other machines or quasi-machines, thus they participate in the entire production cycle.
There are of course different types of robotized islands and this leads suppliers and users to assemble, place on the market and put into service the sets of machines that exploit the functionality of the robots.
These sets of machines fall within the scope of Legislative Decree n. 17/2010, then of the Machinery Directive, and are subject to the procedure for the assessment of the interference risks between its components, to constitute the technical file for the issue of the CE marking.
Furthermore, the integration in a production cycle of a robotized island or of a single robot (simple or collaborative industrial) must comply with the safety requirements listed in the UNI EN ISO 10218-2 "Robot and robot equipment – Safety requirements for industrial robots – Part 2: Systems and integration of robots ".
Contec Industry therefore invites employers or technical managers to ask themselves some questions regarding their machinery and production processes:
– Are the robotized islands and/or the robots of the production line meeting the safety requirements?
– Are the robotic islands marked CE?
THE PROPOSAL OF CONTEC INDUSTRY
Contec Industry supports the employer and his delegates or machine and plant builders in the CE marking of robotic islands.
It provides the support to CE mark the machines and plants or assumes responsibility for certifying and CE marking the equipment in the name of Contec Industry, relieving the employer from such activity.
For further informations: click here or download the technical detail about robotized islands.