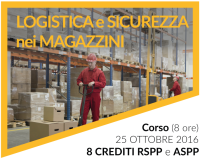 Logistics and safety in warehouses: a new workshop
"Logistics and safety in warehouses" is the first workshop in Italy not only about security, but also how to communicate it.
Safety in the workplace is a fundamental right for all workers. The problem is not just about the activities of production, but there are frequent problems for the operations of the warehouse that can reduce the level of protection and safety of workers.
Goals
The workshop organized by Contec AQS (www.contecaqs.it) in collaboration with SCMAcademy (www.scm-academy.net) aims to provide the necessary knowledge about the management of the safety of warehouses (loading / unloading operations, handling movements…) and to develop processes to monitor and verify the work of the staff. The workshop also present systems of communication and elimination of resistance to change. With the basics of communication techniques and NLP (NeuroLinguistic Programming) it will be possible for security managers increase the impact of their communication.
Program of "Logistics and safety in warehouses"
9.30 Registration
9:45 Lorenzo Baraldo (Contec AQS)
– The warehouse as a workplace
– Risks and prevention systems: DVR document
11:15 Coffee break
11:30 Lorenzo Baraldo (Contec AQS)
– The DUVRI and logistics outsourcing
– The responsibilities
12:00 Andrea Payaro (SCM Academy)
– The warehouse operative process.
– The risk in warehouse activities.
13:00 Lunch
14:00 Andrea Payaro (SCM Academy)
– Considerations for activities.
– The safety control.
15:00 Stefania Netti (SCM Academy)
– Communication across the company
– The involvement of workers
16:00 Coffee break
16:15 Stefania Netti (SCM Academy)
– The 7C communication. Facing the refusal
– The motivation of a safe behavior
17:15 Final debate
17:45 Conclusions
Partecipants:
The course is open for entrepreneurs, logistics operators, warehouse managers, Prevention and Protection Service Responsible and generallyfor  operators in the field of safety, consultants, technicians, etc. who wish learn and improve their System of Management System.
Location:
the workshop will take place at the Tulip Inn Padova Hotel, United States, 54 – 35157 Padua (Italy)
Date:
1 Day – 25th October 2016, from 9:30 to 18:00.
Teachers of the workshop "Logistics and safety in warehouses":
Lorenzo Baraldo
Technical Director of Contec AQS and professor of Safety in the Manufacturing Industry at University of Padua.
Andrea Payaro
Directional consultant and vice president of SCM Academy and author of the book "Organizing the Warehouse".
Stefania Netti
Psychologist and business consultant, operates in the field of work psychology thruogh her scientific research in the field of communications.
To register for the course, please contact:
SCM Academy info@scm-academy.net | phone +39 373 8271516
Contec AQS eventi@contecaqs.it | phone +39 049 7330726