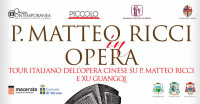 Italy and China: the life of Matteo Ricci and Xu Guangqi
It will be held on Saturday 18 July (7.30 p.m.) and on Sunday 19 July (4 p.m.) at the Piccolo Teatro in Milan, the first show of the Italian tour of P. Matteo Ricci in Opera, supported by Contec Group.
The show will be performed also in Macerata (Teatro Lauro Rossi, on July 21 at 9 p.m.) and Verona (Teatro Filarmonico, on July 24 at 9 p.m.). The shows in Macerata and Verona are free entry.
This event is a unique opportunity to experience the best Chinese theatrical and choreographic tradition, with music and original costumes as part of a creative and secular cultural exchange between Italy and China.