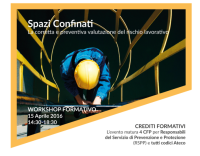 Isolated spaces: the latest workshop of Contec AQS
It's in schedule today, 15th April, at Confindustria Verona, the latest workshop of Contec AQS focused on Isolated Spaces.
Dedicated to the RSPP and to all codes NACE, the event offers a timely reflection about the theme from the obligation of the law on the assessment of the risks about the Isolated Spaces, required by D. Lgs. 81/2008 and D.P.R. 177/11.
The method to value the risks and the technical measures to operate safely, bring some dark areas about the application of regulatory and legislative requirements.
Contec AQS will specify when it is necessary to define and to manage an environment like a isolated space.
The definitions used internationally are numerous, but the most common definition was proposed by NIOSH in 1978 and used again by OSHA in 1993 during the emanation of the specific American federal regulation (29CFR1910.146).
A lot of attention will be devoted to understand how and when certifying contractors and subcontractors in the management of confined spaces.
During the workshop, the correct procedures of certification will be described and many  case studies exposed in order to precise the operating applications.
For more information click on the following link: www.contecaqs.it/event/spazi-confinati/