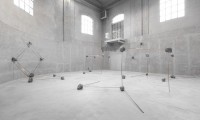 Goshka Macuga at Fondazione Prada, a new collaboration for Contec Ingegneria
Today, 4th February 2016, takes place the inauguration of the latest exhibition curated by the artist Goshka Macuga in the spaces of Fondazione Prada in Milan.
"To the son of man who ate the scroll" is the name of the event of the Polish artist, who for years has been operating to find a common ground between the different disciplines like sculpture, installation, photography, architecture and design.
By pursuing the successful collaboration with Fondazione Prada for the expository events, Contec Ingegneria has provided specialized technical services to support the realization and the set-up of the artworks which draw on articulated and sophisticated artistic practice.
Goshka Macuga is Polish but London is her adoptive city. She explores the historical founding matters of the human being as the time, the origin and the end, the collapse and the renaissance, through the contemporary artistic language.
The expository layout was conceived by the artist specifically for the spaces in Milan of the Podium, the Cisterna and the Sud gallery. In the margin of the event, the volume "Before the Beginning and After the End" which registers the artist's career from 1993 to the present day.
For details: www.fondazioneprada.org
Fondazione Prada| Largo Isarco, 2 – Milano
Photo credit: Delfino Sisto Legnani Studio. The image shows the new Macuga's installation hosted in the spaces of the Cisterna and consisting of 73 bronze heads representing 61 historical and contemporary figures such as Albert Einstein, Sigmund Freud, Martin Luther King, Karl Marx, Mary Shelley, and Aaron Swartz, connected by long bronze poles. The work can be seen as a realization of an imaginary encounter between thinkers of different historical periods and geographical and cultural backgrounds, whose ideas reflect on the complexities of human nature and its history.