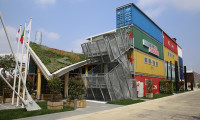 Expo 2015, the feedback from Contec
From May to October, 184 days of exhibition and almost 21 millions of visitors: this is the most significant data of the international event of Expo 2015 in Milan.
A gratifying acknowledgement for Contec AQS, which in the long months of the set-up of this event, employed its numerous technicians for the pavilions of Brazil, Ecuador, Monaco, Azerbaijan, Kuwait, German, Japan, Mexico. In addition, there are clusters and other public places dedicated to Rice, Cocoa and Chocolate, Arid zones, Island, See and Food, Bio-Mediterraneum, Cereals and Tubers, Slow Food, Children's parks, the Cardo and the Decumano and the wide Piastra.
An accurate press review of the major national and international newspapers and magazines confirms that the most appreciated pavilions were those of Brazil, Japan and Azerbaijan with their architectural peculiarities (sometimes ludic) that caught the attention and the curiosity of the visitors.
Another important role for Contec Ingegneria came out from the prestigious stage of the Italian Pavilion that hosted the section of the exhibition " The power of the Beauty", collecting the beauties of our Country, reminding some architectural masterpieces like the MART's magnificent structure in Rovereto.
Photo credit: Pavilion of Monaco – Expo 2015