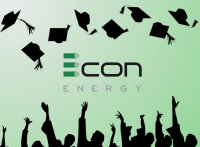 ESCo Verona: new certifications for ECon Energy
Econ Energy, the company of Contec Group specialized in energy engineering, obtained two important certifications UNI CEI 11352 Energy Management – Companies that provides energy services (ESCO) and UNI CEI 11339 EGE – Experts in Energy Management.

ESCO (Energy Service Company) in Italy finds the first definition in the Legislative Decree no. 115/2008: "a person that delivers energy services to improve energy efficiency accepting some financial risks. The payment for the services is based on the improvements."
From 18th July only the ESCO certified can request the incentives and can carry out the energy diagnosis for big sites and companies of energy.
ECon expands its expertise for energy optimization by offering services of redevelopment where the first investments will be supported by the same Econ.
The theme of energy savings requires detailed and updated expertise on the subject: to the new generation ESCo are requested to get the best energy value.
The energy design and actions  of ECon are dedicated to all productive and civil sectors: industry, residential, commercial and it's focused on the large retail and services, especially health care, for the best management of environment and HVAC (Heating Ventilating and Air Conditioning) systems.
Not less important, the power that these services hold on the Public Administration for the heritage, in terms of efficiency and modernization.
This certifications are  very important for the development of ECon and the whole Group. Econ can also have a certificate staff, according to UNI CEI 11339, that is expert in Energy Management.
For more information: www.econenergy.it