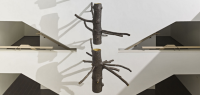 Engineering and Art : Contec at MART for the sculptor Penone
After the design and the work direction with the Master Mario Botta, Contec Ingegneria collaborates again with MART in Rovereto for an exclusive set up in the occasion of the tribute that the Artistic Direction dedicate to Giuseppe Penone.
Giuseppe Penone is one of the greatest living Italian artist and Arte Povera representative, the protagonist of a monographic exposition at MART in Rovereto (Trento) from 19 March to 26 June 2016.
The exposition "Giuseppe Penone. Scultura" reconstructs through new and significant works the relationship between the artist and Nature in a special dialogue with the museum spaces. Contec Ingegneria contributed with specific technical skills because for the first time, the captivating sculpture " Spazio Luce " (2008) is exposed vertically along the wall of the stairwell , instead of the usual arrangement of the floor . This choice requested a careful technical and static study for the proper set-up of the opera.
The sculpture is made of bronze and is constituted by six trunks with branches – with no foliage – attached to the wall by sticks of steel chemically fixed .
The tradition of Contec Ingegneria in the sector of the art goes back to the early Sixties when it began with the first engineering technical advices for the set-up of artistic installations of international relevance. Artists and curators need also a technical support applied a particular sensitivity to decline in terms of creativity codes.
The careful technical supervision of Contec has supported both classical and modern art to the most contemporary creativity, through different installations at Salone del Mobile in Milan, the Museum of Castelvecchio  in Verona with Peter Eiseman and Carlo Scarpa, at the new Fondazione Prada designed by Rem Koolhass. Today the engineering art services offered by Contec Group are varied. From traditional technical components – as static suitability, building systems, feasibility studies, time and cost management – the skills have expanded with the integration of safety services and the sustainable management of the event in accordance with the UNI EN ISO 20121 "Sustainable management systems of events."
For more information, click here.
Photo credit: MART