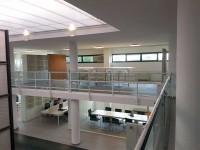 Design for office: AVL VWG's spaces are ready
Contec Ingegneria curated the design and the work direction in coordination with Contec AQS – responsible for the safety on site – for the new AVL Volkswagen Group's offices in Verona.
The design of the new offices for AVL Volkswagen Group finished in July,. AVL is a society of the Volkswagen Group that develope the marketing of the worldwide brand Bugatti (www.lifestyle-bugatti.com/it/).
Specifically, the task was focused on the design, the construction management and the safety coordination for the new headquarter of AVL in a preexisting building in Verona.
Description of the project.
The space available for the intervention was on two levels featured with a central void, and a square plan of 600 square meters.
Into this suggestive open space there are the operational and executive work-stations with three meeting rooms having transparent walls. The offices were completed with some utility rooms, present upstairs.
The separation between the work-stations (individual ones for management and collective for other operators) was carried out with mobile structures.
Particular attention also was also paid to the lighting project in order to have a continuous-right light, respecting the energy of solar power during the day.
Photo-gallery della progettazione uffici: