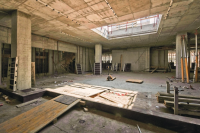 Contec works for hospital centres in Verona
Contec Ingegneria and its technical staff are active in a twofold far-reaching involvement concerning healthcare in Verona.
Two operations of extension are in progress regarding the existing buildings in the main hospital centres of Borgo Roma and Borgo Trento. This intervention aims at the implementation of the Outpatient clinic and the Hospital for Women and Children's care.
Contec's task is the structural design of the buildings, which are part in a wider operation of reorganisation and strengthening of the healthcare services for citizens.
The architects Luisella Zeri and Alberto Vignolo dedicate an accurate service to both construction sites which are furnished by Lorenzo Linthout's suggestive images.
Click here to see the full article.
Photo credit: Lorenzo Linthout