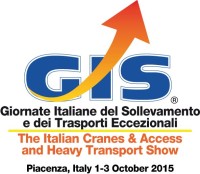 Contec Industry will be present at GIS 2015
From 1 to 3 October 2015 , Contec Industry will be present at GIS EXPO 2015 – Giornate Italiane del Sollevamento, one of the first autumnal events of the industrial sector.
GIS EXPO 2015 will be held at the Fair of Piacenza – Piacenza Expo and it is the only Italian exposition for the operators of lifting and oversize loads.
The exposition is focused on professionals who works with cranes, overhead platfoms, telescopic lifters, overhead travelling cranes, systems for the industrial movements, oversize loads and it is organized in collaboration with ANNA (Italian Rent Association of Cranes and Oversize Loads), AITE (Italian Association of Oversize Loads) e IPAF Italia (International Powered Access Federation).
Contec Industry will be present at Pavilion 1  – Stand A 21