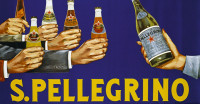 Contec Group and San Pellegrino: an upcoming collaboration
December has been a very special month for the Contec Group, which is involved in enriching its expertise in the agroindustrial business with one of the major operator in this sector.
After the integrated specialistic advisoring provided to Ferrero Mangimi, the Contec Group is going to collaborate with San Pellegrino, the undisputed international leading company of water and beverages.
Belonging to the Nestlé Group, the brand of San Pellegrino chose Contec Ingegneria and Contec AQS as the ideal partners for the concept, the architectural and structural design of the new automated warehouse in Ruspino (Bergamo, Italy).
Contec Group is starting a partnership strategy with Nestlè in order to put progressively into the field the Group's specialized competences within architecture, structures, plants, energy efficiency and safety. This compact asset of competences allowed to acquire another important success in the agroindustrial sector.
www.sanpellegrino-corporate.it – www.sanpellegrino.com