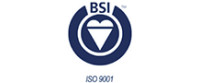 BSI – ISO 9001
The activities of Contec companies are coordinated through Quality Management Systems certified in accordance with UNI EN ISO 9001
by BSI-British Standards Institution. The prescribed standards are applied to all business processes and improve the quality of internal company services as well as the satisfaction of clients who decide to work with us.
Trackback from your site.